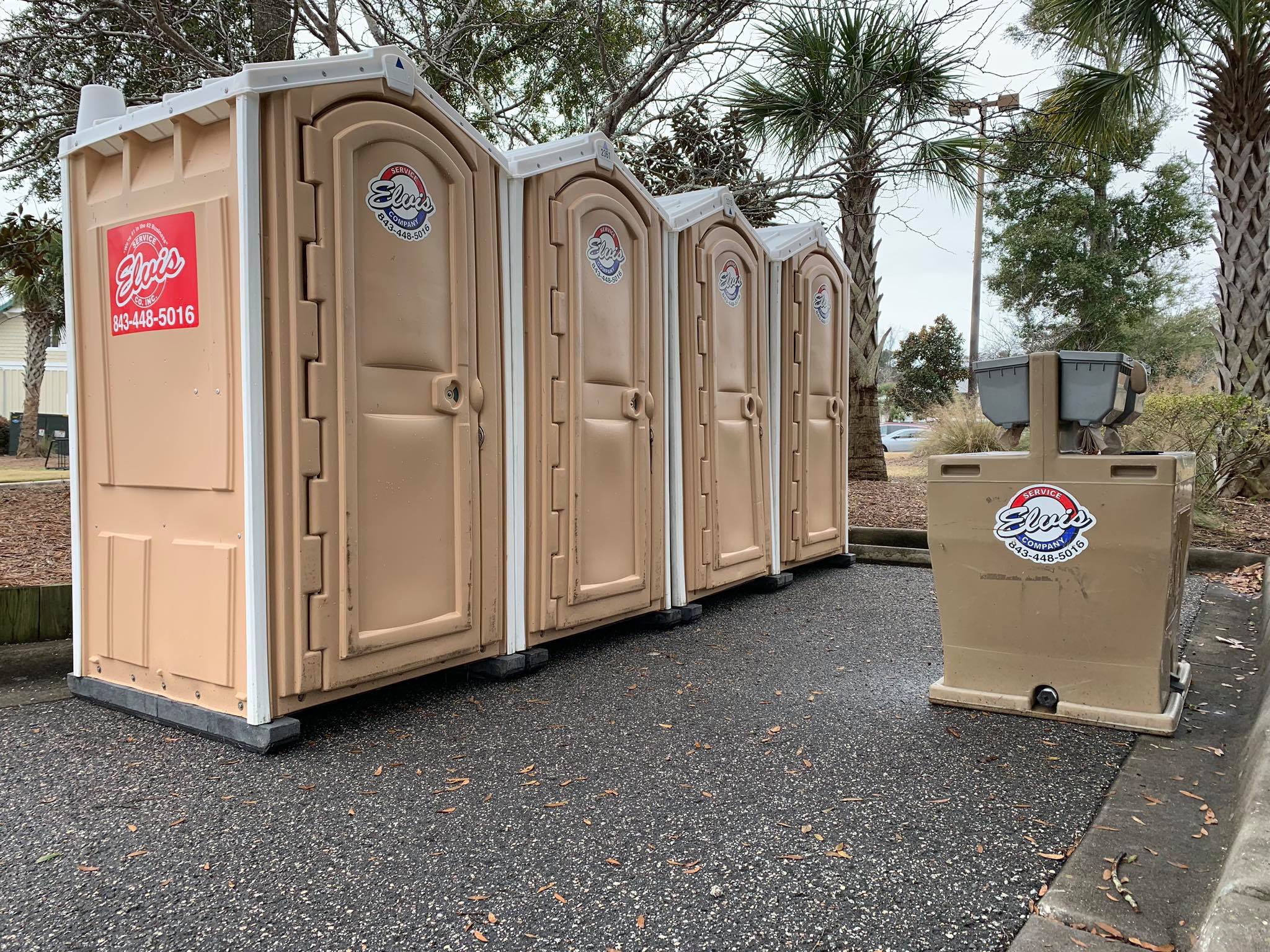 14 May

Debunking Common Myths About Portable Restrooms
Debunking Common Myths About Portable Restrooms
Whether you're planning an outdoor wedding in Myrtle Beach or a part of a committee that's organizing a running event, renting portable restrooms is a part of your to-do list. In your hunt for quality, affordable portable toilets, you've likely come across a number of myths about porta potty rentals. As the best porta potty rental company in Myrtle Beach, Elvis Service Company wants to put those myths to rest so you can make an informed decision for your event.
Porta Potty Rentals Myrtle Beach
Let's take a closer look at some of the myths surrounding renting portable toilets.
MYTH: Porta potty rentals in Myrtle Beach are only needed for large events.
While you'll regularly see rows of porta potties at large events, like music festivals and outdoor wine tastings, they are appropriate and useful for smaller events as well. Consider portable toilets rentals for your construction site, small outdoor wedding, family reunion, or corporate event. When indoor restrooms are not immediately available, or pull people away from your event, VIP restroom trailers will keep your guests at the party.
MYTH: Porta potty trailer rentals in Myrtle Beach are dirty.
All portable restroom rentals from Elvis Service Company arrive with a clean, empty tank. It's our goal to help you impress your guests and attendees, so proper sanitation is number one on our priority list. If you're worried about keeping the portables clean throughout the event, turn to our selection of restroom trailers, which offer flushing toilets and running water for hand washing.
MYTH: Myrtle Beach porta potty rentals offer nowhere to wash your hands.
There are several options for guests to ensure their hands are clean. Many porta potty options are equipped with hand sanitizer, preventing germs from spreading. In addition, mobile handwash stations are available for rent and can be positioned outside your porta potty rentals. For more formal gatherings, VIP restroom trailers offer private, flushing toilets with sinks and running water for hand washing.
MYTH: One VIP restroom trailer is enough for your Myrtle Beach event.
The number of portable toilet rentals you need will depend on the number of guests attending the event. Use our guide to avoid underestimating your porta potty rental needs. For large weddings and corporate events, you'll certainly need more than one trailer. Allow your guests to enjoy the festivities, not wait in line for the restroom.
MYTH: Myrtle Beach porta potty rentals are too expensive for my budget.
The Elvis Service Company is dedicated to providing elite service and helping each client meet their goals. We'll take the time to speak with you about your needs and offer portable restroom solutions that fit within you budget. The fee will include delivery, so you don't have to worry about hidden charges. The best way to determine the price of Myrtle Beach porta potty rentals is to call our courteous staff and tell us about your event.