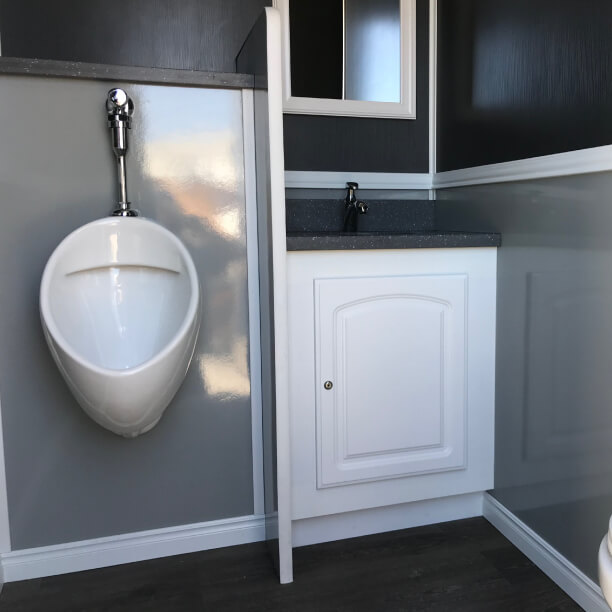 02 Feb

5 Reasons A Flushing Toilet Rental Is Better For Your Event
5 Reasons A Flushing Toilet Rental Is Better For Your Event
When you're planning a large outdoor event, each detail matters. Whether it's a family reunion, corporate function, or large wedding, you're faced with at least one same requirement: restrooms for your guests. While portable toilets will do the trick, there are times when a flushing toilet rental is the better choice. As you plan your event, keep these benefits of a deluxe restroom trailer in mind.
Greater Cleanliness
When the waste from your guest is completely removed, the environment is cleaner. Guests are worried about germs when flushable toilets are available to offer a much greater level of cleanliness. If you want to provide a convenient solution to sanitation concerns, a flushable portable toilet is the best solution.
Improved Comfort
You want your guests to feel comfortable at your event. When you provide solitary, clean solutions for restroom use, guests feel more confident and comfortable. Guests should feel relaxed and welcome to stay throughout the entire event, not anxious and rushed to leave because of inadequate facilities. Flushable rental toilets like the Elvis Service Company Elite Trailer also offers air conditioning and heat to keep guests comfortable.
Reduced Odor
Do more than stick a can of deodorizer in a portable toilet. Eliminate the smell of lingering waste by renting a restroom trailer supplied with a flushing toilet. The bacteria that causes strong odors in portable toilets is completely cleared with deluxe portable toilet rentals. Allow your guests to feel comfortable and breather fresh air.
Reduce Spread of Germs
Elite portable toilet trailers come equipped with sinks and running water. Guests will be able to use the facilities and wash their hands comfortably without worrying about a hand sanitizer dispenser being empty or sticky to touch. Guests then dry their hands completely, reducing the spread of germs to other guests. Stock the sink with a soap of your choice or a scented candle that matches your wedding theme.
Add Personal Touches
An elite restroom trailer offers space to add décor or personal touches that will help your guests feel welcome. Add a basket of toiletries for guests to use or a personal thank you board to let guests know how appreciative you are they attended the event. Use color and accessories that match your theme, carrying the party to every element of the event.
No matter what the size or scope of your next event may be, your guests will need a proper restroom. Portable toilet trailers are a way to show your guests you appreciate their attendance, want them to feel comfortable, and keep germs away from food or drinks. Whether the event is a large outdoor wedding, corporate outing, or fundraising event, you want to leave the best