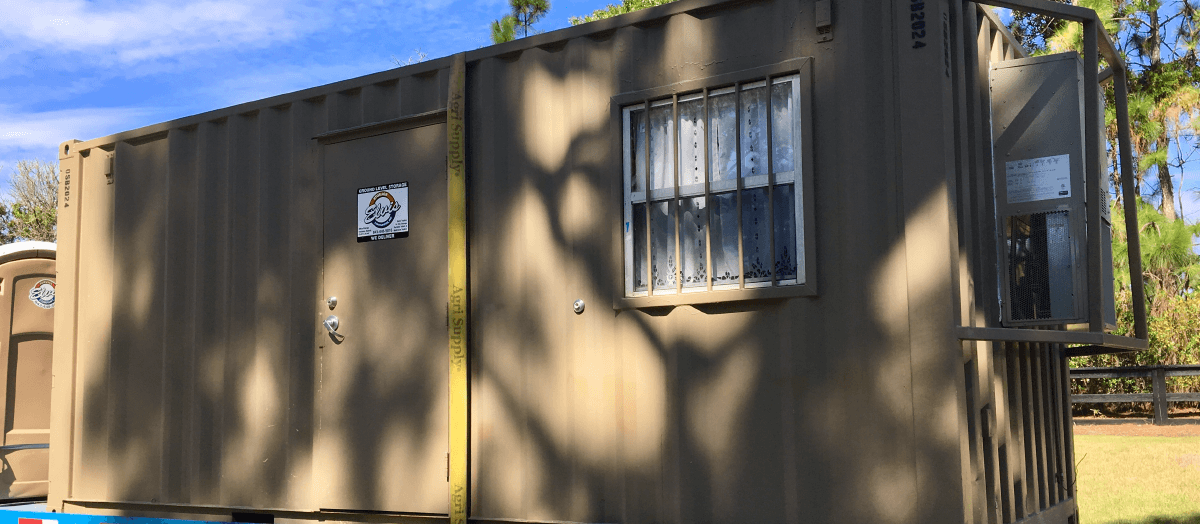 12 Sep

5 uses for Ground-Level Office Containers
5 uses for Ground-Level Office Containers
When business is growing and your crews are working from multiple construction sites, there becomes an immediate need for multiple mobile offices. But construction sites aren't the only facilities that utilize a conex box rental. From parking kiosks to major events, these 40' containers can create a safe, effective mobile office environment. Here are five situations that call for construction office rental boxes.
Construction Site Mobile Office
Construction trailer rentals are an ideal way to provide an immediate office space, available in a variety of sizes. You can:
Customize office to fit your needs

Easy to fit

conex box rental

in nearly all work sites

Climate controlled work space through insulation and HVAC unit

Transport or relocate offices easily by truck and move on site with forklift
Storage Units
You need a safe place to store your equipment and a 40′ container is ideal for your needs. Whether it's construction tools or private paperwork, a conex box rental will store excess inventory, blueprints, and schedules secure onsite.
The construction trailer rental is a weatherproof, durable location for your work site needs. The climate controlled spaces mean you don't have to worry about fluctuating temperatures damaging your tools or equipment and the windows let in natural light, so you avoid small, dark spaces that don't make for comfortable work spaces.
Security Offices
Security is top of mind for any business – large or small – and a 40′ conex container is ideal for security offices. Protect your work site or create the security office you need for your event with a conex box rental.
Parking Kiosks
Large events like concerts, festivals, or state fairs will require a large parking area. Attendants for the parking space need a comfortable, secure place to work and respond to guest questions. A 40′ container is ideal for the workers to take shelter and stay safe.
Control Room
A central location of a large event should be clear to the crew and event goers. By utilizing a conex box rental to build a control room for a major event, you meet your event needs at an affordable rate. A 40′ container is highly customizable, so you can choose features that meet your needs.
Ground-level storage containers for rent can meet numerous demands across a number of industries. Utilize construction office rental boxes at work sites, major events, or to man parking lots. We can deliver the units to ground level on your construction site with a prompt and dependable team of delivery personnel. Our offices are staged throughout the eastern Carolinas for quick delivery.