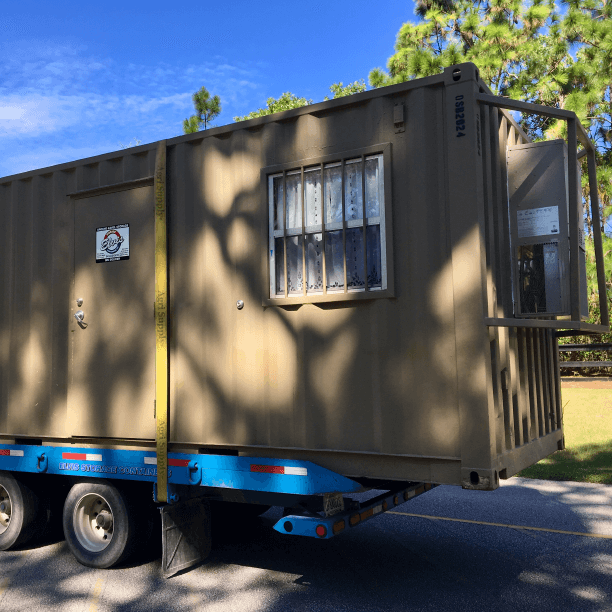 24 Aug

The Benefit of Having an On-Site Construction Container Office
The Benefit of Having an On-Site Construction Container Office
When work locations change based on the project, the best solution is a construction office rental option. A temporary solution for a much-needed office space provides a place to store paperwork, surplus goods, and meet with clients as needed. If you're unsure whether a construction trailer rental would meet your needs, check out some of the benefits of bringing one on site.
Construction Office Rental Space Benefits
Set up a fully functional office space, like a 40' container, at your construction or work site and enjoy these benefits:
Affordable

: Investing the time and money to construct an on-site office can throw off your project timeline and pull major cash from your budget. Utilizing a

conex box rental

as a mobile office gives you immediate space and keeps your operating costs low. Avoid the hassle and significant costs of constructing an office yourself, and opt for an

office rental trailer

.

Convenient

: When you rent a

40′ container

to use as a construction office space, the unit is delivered and picked up on your requested dates. You don't have to worry about traveling to a different site to conduct business – it can all be done inside the custom office and the box rental is hauled away when your work is complete.

Customizable

: The inside space of a

40' conex container

can be customized to meet your mobile office needs. Whether you desire several collapsible desks, meeting tables, ceiling lighting, windows, or electrical hookups,

the construction office rental

space is designed to handle your everyday tasks.

Climate Friendly

: The

construction trailer rental

can offer access to heating or cooling units, so you'll be comfortable on the job site no matter the time of year. Plus, a fully enclosed space means even if the job is delayed because of rain, you can complete office-related tasks as to not lose an entire day of work.

Durability

: The

40′ conex boxes

are built from solid materials designed to last for years. Your mobile office will withstand different weather elements and hold up even for long-term construction projects.

Sustainability

: Many

construction office rental

options can be designed with windows or sliding doors, which make it easy to access natural light and air. The

conex box rental

cuts down on your electrical use and support low carbon emission and energy waste.

Security

: Because the 40' conex boxes are well-built, they keep your supplies and paperwork safe. These boxes are designed to keep your belongings safe from theft, which can be a big challenge for many construction sites.
Utilizing a construction office rental for a construction site, training center, sales office, or administrative meeting room, allows you to use a quality mobile office space that fits your needs through customized design.